GENESIS TOWER GROUNDS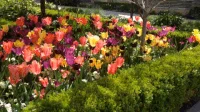 You are in a walled off beautiful garden full of a variety of flowers.
This wooden walled off area is serene and tranquil, the trees and plants that grow here are clearly tended to regularly, or perhaps they are magical of an eternal nature.

In the northern walled area there is a shimmering portal shaped like a doorway, it seems to repell you if you move close to it, some strange magic going on there. The area to the south is blocked by the southern pallisade walls and beyond that the mountains of Gox rise high into distance. The only open way to go is the pathway that leads eastwards.

---
You can go east.